OPEN DAILY: Mark Peel's first ever fast casual concept is located in Downtown LA's historic Grand Central Market and our second location can be found in Pasadena at One Colorado Courtyard.
Chef Mark Peel designed Prawn to deliver high-quality seafood dining that is accessible for all. He and his team create inventive and delicious broths that is the flavor base for fresh seafood dishes in tilting steam kettles, a cooking process that expedites simmering and renders a richer taste with more complex flavors. They use fresh seasonal ingredients and sustainably sourced seafood. The menu includes a Thai Lobster Roll, fish and chips, Paella, Clam Chowder, and the famous Seattle Fish Stew.
Prawn is a partner in the Monterey Bay Aquarium's Seafood Watch program. With his passion for good food, Mark Peel aspires to redefine fast casual, offering people a healthy responsible choice that will delight their palates.
Prawn is a casual, broth-based seafood concept steeped in flavor and fresh, seasonal ingredients, focused on more traditional seafood fare like fish & chips and lobster rolls. Created by Chef Mark Peel, one of the fathers of California cuisine, Prawn is located in downtown L.A.'s historic Grand Central Market at 317 South Broadway Street. Hours are 11am-6pm Sun-Wed, and 11am-9pm Thu-Sat.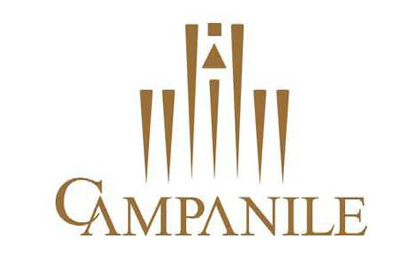 Campanile Restaurant
From mid 1989 until nearly 2013, Campanile Restaurant was a legendary landmark on La Brea Avenue in Los Angeles, California. Co-founded by Mark Peel, Nancy Silverton, and Manfred Krankl, Campanile earned instant and continual acclaim during its reign. In 2001 Campanile won the James Beard Foundation award for Outstanding Restaurant.
According to the Los Angeles Times, "Campanile, which opened in 1989, helped to shape the culinary landscape of Los Angeles, influencing so many of today's chefs (many of whom passed through its kitchen)."
"The storied restaurant, with its distinctly American approach using top-quality farmers' market ingredients, helped set the tone for Los Angeles dining in the 1990s," wrote Betty Hallock. For more than two decades Peel served as Executive Chef at Campanile, where food critic Jonathan Gold observed that "It is hard to overstate Campanile's contributions to American cooking, and "… Peel is still the most exacting grill chef in the country, a master who plays his smoldering logs the way that Pinchas Zukerman does a Stradivarius."
To provide the breads they needed, Peel and Silverton also co-founded La Brea Bakery, which opened five months before Campanile restaurant launched. La Brea Bakery was sold in 2001 to Aryzta AG, the largest bakery company in the world, and is now a worldwide company.
In its November 1997 issue, Los Angeles Magazine said, "Arguably the best restaurant in L.A., Campanile—home to Nancy Silverton's La Brea Bakery and local shrine to Mark Peel's urban-rustic cuisine—continues to be solid yet innovative, comforting yet startling. The cedar-smoked trout with fennel salad; rosemary-charred lamb with artichokes, fava beans and olives; and the sour-cherry brioche are classic selections from a menu that changes daily."
As Samuel Fromartz wrote for CNN Money, "Like the bakery before it, the Campanile restaurant was a hit when it opened six months later. Silverton and Peel were well known from their stints at Spago and Michael's in Los Angeles. The press anticipated the opening. Customers waited weeks for a table. Annual sales exceeded $2 million right from the start."
In Los Angeles Magazine, Marielle Wakim summed it up: "Campanile—a restaurant so revered for its contributions to America's culinary landscape that it spawned eulogies from food critics when it closed in 2012."
Wikipedia's article about Campanile lists some of those tributes.